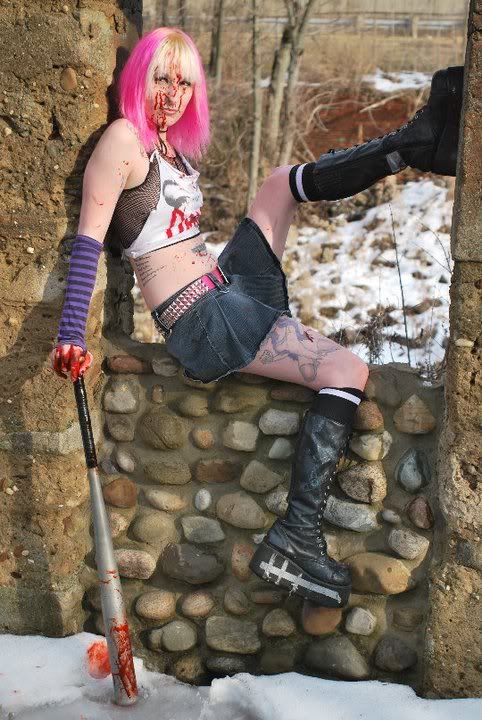 Hello you horror crazed maniacs! How the f*ck has everyone been? Okay, so I AM hitting up the conventions this year. I'm extremely excited and I hope to meet lot's of you there! Let's talk horror, get drunk and kill someone! I mean...uhh..you know what I meant! Anyways just thought I'd let you guys know where I'll be popping up and what's going on. So my poor blog has been denied for quite awhile. I should actually be studying for an exam I have Thursday, but it can wait. I work and go to school and try to fit in time for movies, photography, modeling and just trying to see my friends. So it's been crazy lately, but I'm clearing some days on my calendar to make it to some conventions!
Cinema Wasteland: Finally! Something comes up every single time I try to go to Cinema wasteland, well this year it's going down!
Cinema wasteland runs from April 1-3rd and will be in Strongsville, Ohio. For more details you can check out their website: www.cinemawasteland.com
HorrorHound Weekend
Horrorhound is having amazing guests this year and I wouldn't miss it for the world. I've already bought my weekend pass, I'm stoked! Horrorhound weekend will be March 25-27th. www.horrorhoundweekend.com
I'm also considering the Halloween expo in St. Louis(this is the Halloween show we usually attend every year, it's usually in Chicago). C2E2 in Chicago is a big maybe. There's a couple others I'll be looking into depending on how my money situation and schedule is looking. I really want to make it to Comic-con. A spastic chill just ran up my spine! I'll announce more when I find out what I'll be doing.
What horror/movie/entertainment conventions is everyone hitting up this year? Anyone going to any of these?
I also just got a new HD camera so expect some horror shorts out of me this year! I'm also filming a video for the band "Portrait Of A Ghost" in April and have a bazillion photoshoots lined up! It's going to be one busy ass year, but we'll see what gets accomplished! I'm currently working on a book and screenplay by the same name that I'm really excited about as well.
Also I would like to say to all of you amazing and GORE-GEOUS women in horror, HAPPY WOMEN IN HORROR MONTH! <3 you gals to death!! Keep doing what your doing and kicking ass! =]
P.S. If anyone wants to set up any photoshoots with me, let me know! Well actually any projects in general. Just let me know ahead of time,so I can make room for whatever it may be.
P.S.S. I have more big news coming soon!
Anyways I'm off!
Hope everyone is doing good! =]
Aleata Illusion