Yes, I know it's been like a century since I've updated my blog. But I'm back and I have some upcoming movies I'd like to discuss with you guys. A lot of garbage and some very promising, we'll just have to wait and see. I'm doing this in two parts, this being the first. These are my predictions on the movies. I'll eventually watch and review all of them. I have extremely good judgement, so I'm pretty sure these are all going to kick some major ass. Anyways let's start with the movies that I am DYING to see!

We all know I'm a huge fan of Mr. Joe Lynch and that's why I'm starting my list off with two movies he's directly involved with. I interviewed him back before he had even started this project but he has finished it and sent us this masterpiece straight from the heavens..or hell...whichever you prefer. Welcome world "Knights of badassdom"! I've been waiting a long time to see this movie and I get even more excited by the day. Knights of badassdom is a little story about a group of friends going to a LARP(Live Action Role Playing) gathering in the woods and ending up raising a succubus from hell from an ancient book of some sort. From there on a bloody battle ensues against the demonic creature and it's up to them to stop her. Well let me just say the trailer speaks for itself. Take a gander and enjoy!
Next up we have "Chillerama"! This isn't just a normal Joe Lynch movie, it's actually split into 4 different stories and of course directed by 4 different directors. Not to mention it's 4 men that I always keep an eye out for. Joe Lynch(Wrong turn 2, Knights of badassdom), Adam Green(Hatchet,Frozen,Spiral), Tim Sullivan(2001 maniacs,Driftwood) and Adam Rifkin(Detroit rock city,The dark backward). The segments that are their babies are as follows:
Adam Rifkin-Wadzilla
Adam Green-Diary of Anne Frankenstein
Joe Lynch-Zom-B-Movie
Tim Sullivan-I was a teenage werebear
You can not tell me that those don't sound amusing just from the titles. Anyways the film is about the closing night at a drive-in theater and the owner Cecil B Kaufman(Richard Riehle) wants to play some of the greatest movies that he can dig up that have never been shown to a living soul until tonight and those are the movies of course. The movie also stars horror favorites Lin Shaye,Kane Hodder, Joel David Moore and Ray Wise.
Here's a clip of Mr. Lynch talking about whats in store for us: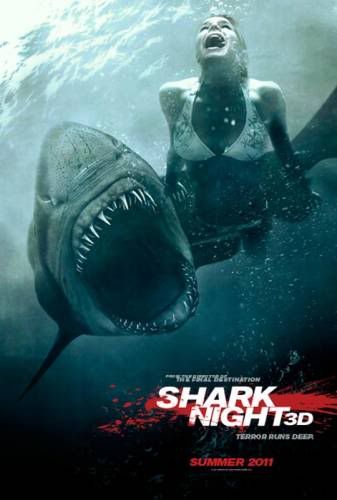 Shark Night 3-D
With my freakish obsession with sharks, you know I'm going to be in the theaters when shark night is released. I do have to admit I'm getting sick of all these 3-D movies that are plaguing the theaters, that shit hurts my eyes. I'll take the 2-D, thank you! Anyways the story is about Sara(Sara Paxton) and her group of friends that go on vacation to her lake house in which they encounter a whole buttload of sharks in the lake. People get eaten and the sharks party it up, ya get what I'm sayin'. Also starring Dustin Milligan, Chris Carmack, Katharine McPhee, Joel David Moore(love that guy) and Joshua Leonard. Directed by David Ellis(Final Destination 2, Snakes on a plane). This flick will hit the theaters in a day on September 2nd. Get excited and check out the trailer below!
And check out Sara Paxton talking about the film on G4: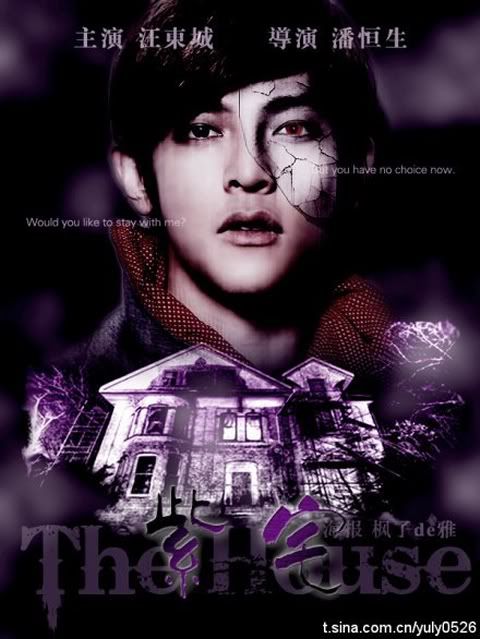 Now let's bring it some fresh Asian horror. "Purple House" aka "Zi Zhai" is looking pretty good to me! Not to mention I LOVE the poster art for it! It's a little harder to explain, so here's the synopsis from IMDB.com writer by Clara Shim:
"As Zhou Tong, a bourgeois woman returned from abroad with her fiancé Li Yi to success to her father's property, the old memory was unsealed. The story just begins from there. There aren't any impression or nostalgia for her, though that is the home in which she had lots of childhood reminiscences and which she hadn't been back in a long time. Everything around her make her anxious only. People under one roof are family members not related to her at all, callous stepmother, her younger brother, and her personal hospice and a weird gardener. From the very first moment when Zhou and Li moved in that old house, mysterious incidents happen in continuous, and they cannot find any clue like they are fogged in. All in the house go into have an ulterior motive, Zhou and Li are at a loss for what to do in these situation that seems people have complicated relations each other. Are all of these just a nightmare indeed, or a disaster now happening? 2011 September, the mystery solved!"
Directed by Hang-Sang Poon and starring Jiro Wang, Liya Tong, and Yuyu Xiao.
Check out the first teaser trailer:
This is also being released sometime in September.
Now here's something completely unexpected. I'm sure you all know Daniel Radcliffe from the Harry Potter movies(who doesn't love them?). Well he's decided to jump shift to horror and in a really big way. I think he is finally cutting the umbilical cord from the Harry Potter franchise to showcase the fact that he has lot's of talent for other genre's as well. Well so far so good, Daniel! The trailer looks freaking immaculate! The story centers on a young lawyer that travels to a remote village where he goes to do some paperwork for a recently deceased client. In the village he comes across the wicked ghost of a scorned woman and all kinds of creepiness goes down! Directed by James Watkins(Eden Lake,The Descent 2) and also starring Ciaran Hinds, Janet McTeer and Roger Allam. The woman in black is looking to be released February 3rd, 2012. Hold on to your dicks ladies and gents and check out the eerie trailer below!
Last but not least we have "R.I.P.D.". This is actually a lot bigger production with big names attached to it such as Ryan Reynolds(Green Lantern,Amityville horror remake), Jeff Bridges(The big Lebowski,Crazy heart), Kevin Bacon(Friday the 13th,Crazy,Stupid,Love.) and Mary-Lousie Parker(Red,Weeds). The first thing that attracted me to this movie was the fact that it's based off of a neat ass comic book series. The Sci-Fi/action dark horse comic by Peter M. Lenkov "R.I.P.D" stand for the rest in peace department. The story centers on a department of undead policemen including recently murdered Nick Walker(Reynolds) who patrol in the afterlife. Basically Nick goes about working for the R.I.P.D. in attempts to find the man who killed him.
Robert Schwentke(Red,Flightplane) is in the directors chair for this one.
This one won't be released until June 28,2013, but you can count on me to watch for updates on the filming.
If you would like to check out the comic, you can right here:
http://www.darkhorse.com/Books/12-391/R-I-P-D-TPB
And here is a clip about R.I.P.D. I found on youtube:
Well that's all for now. I'll keep you updated with the new horror coming out and bitch about it. My shitlist is coming next! So what's everyone looking forward to seeing? Any thoughts on these movies? Let me hear it, people! Until next time..
References:
www.imdb.com
www.horrorasylum.com
www.youtube.com
www.G4.com
www.darkhorse.com