Here's something really neat that I was sent in my e-mail. They have released a black devil doll bobblehead! Nice! So anyways check out the info below if you are interested!
BLACK DEVIL DOLL BOBBLEHEAD ORIGINAL PRESS RELEASE: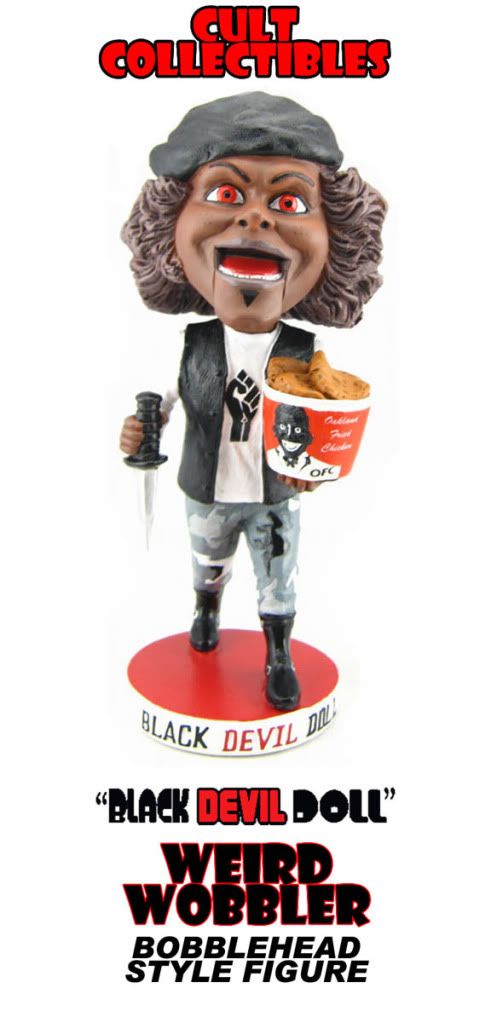 "Cult Collectibles is proud to announce the release of its first "Weird Wobbler" bobblehead style figure from one of the most outrageous underground films ever made: BLACK DEVIL DOLL! Pre-orders are available now with product shipping in September 2010!
The 2008 film is the story of an executed Black militant who is reincarnated into a vicious ventriloquist's puppet, causing endless mayhem and murder (to put it mildly). Widely hailed by cult film aficionados and simultaneously condemned for its overt (yet completely tongue-in-cheek) offensiveness, Art Ettinger of Ultra Violent magazine stated, "Black Devil Doll is a triumph, seamlessly blending crass un-PC humor with cerebral artistry. The Lewis Brothers deliver one of the most original exploitation films of the new millennium, a singularly unique mix of brain and brawn."
Owner of Cult Collectibles, Mark Jason Murray comments, "I became a tremendous fan of the film even before I saw it and when I started brainstorming what would be the perfect license to launch my toy company, BLACK DEVIL DOLL seemed to be the best fit. Thinking as a collector and fan, this is something that I would love to have in my own collection and since the film character is essentially a "toy" it was an easy choice. From a business perspective, I know the film already has a rabid fan following and that the film's creators would be able to provide an incredible amount of publicity for it right out of the gate. I am also very keen to work with people who I considered friends."
The figure was created with great attention to detail while still allowing it to have an identity of its own. "A lot of time was spent getting the details of the figure just right," states Murray. "It was still important for the figure to appear as a characature, which the bobblehead format is famous for, but only slightly as anything "cute" would have gone against the character in the film. It's really very accurate, from the subtleties of the facial expression down to its boots."
Besides holding a knife in one hand, even further details were included to help bring out the spirit of the film character and one of the film's biggest jokes. "What started as a simple afterthought during the initial planning of the figure turned out to be one of the figure's best features and one of the most difficult to obtain. We wanted the figure to be holding a bucket of "Oakland Fried Chicken" and initially it came back looking like Colonel Sanders on the bucket which was the exact opposite of what it's supposed to look like so after multiple design revisions it finally got to where it needed to be and it brings a whole new level of hilarity to the figure that I am sure fans of the movie will really enjoy. I am very happy with everything about this figure. It was great to work with the creators of the character and film and perhaps we can collaborate on something else in the future."
Murray's company strategy is simple. "I really want to do figures that put Cult Collectibles in a category of its own and this provided me with the ability to do just that. I anticipate the figure will sell out quickly."
Cult Collectibles is already at work on three future limited edition "Weird Wobbler" figures scheduled for release late 2010/early 2011:
- The "Demon Doll" will pay tribute to the Italian horror films of actress Geretta Geretta (Lamberto Bava's DEMONS, Lucio Fulci's MURDEROCK, RATS: NIGHTS OF TERROR, etc.)
- The "head wound girl" from Lucio Fulci's THE BEYOND (in association with GRINDHOUSE RELEASEING)
- Lucio Fulci from his film CAT IN THE BRAIN (in association with GRINDHOUSE RELEASING)
BLACK DEVIL DOLL "Weird Wobbler" details:
-Limited edition of 1,000 hand numbered figures
-7 inches of lightweight polyresin
-housed in a full color retail box designed by BLACK DEVIL DOLL poster artist, Stephen Romano
-Special exclusive BLACK DEVIL DOLL trading card available ONLY during pre-order period through www.cultcollectibles.com
-Pre-orders available now with figure scheduled to ship by mid-September 2010
For more information on Cult Collectibles visit: www.cultcollectibles.com
For more information on Black Devil Doll visit: www.blackdevildoll.com
- Mark Jason Murray
www.cultcollectibles.com ("Figures From The Fringe")
www.rudyraymoore.com (Official Website)
www.filmfanaddict.com (DVD reviews, news, etc.)"