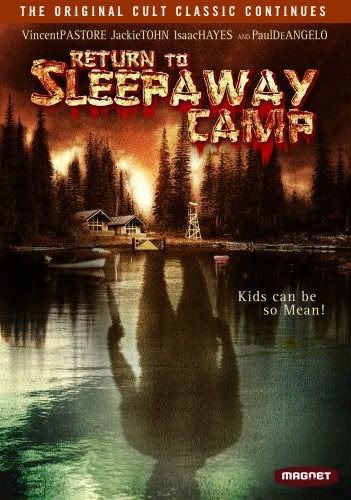 Return To Sleepaway Camp (2008)
Warning this review contains "Spoilers",if you would like to be surprised watch it before you read this.This is almost a re-make of the first "Sleepaway Camp".If you compare the two you'll be able to pick out all the similarities.So welcome back to another horrific stay at the freshly named, "Camp Manabe".The Sun is bright,the skies are blue,and there's yet again another killer on the loose.So we have the legendary Robert Hiltzik back to again write and direct another sleepaway camp master piece.So this story is focused on Alan (Michael Gibney) the boy at camp that everyone is prone to tease,because he's a little bit different.It seems like these kids lives revolve around what mean trick they will play on poor Alan next.Alan does rebel back to an extent,but he's just way to out numbered.The bullies pranks get so cruel that Alan runs off and vanishes into the woods towards the end of the movie.The dead bodies slowly start building up again as another camp massacre ensues.We have a little bit of everything to look forward too including..some original sleepaway camp characters played by the original actors.Welcome back Johnathan Tiersten as Ricky,Paul Deangelo as Ronnie,and the one and only Felissa Rose as the elusive Angela.There is much black humor to enjoy.And not to mention there's a bird that says,"Your ass stinks".If that doesn't grasp your attention,i don't know what will.
This movie has not let the "Sleepaway camp" style fade one bit!You have your evil camp counselors who don't listen,mean bully kids,gruesomely funny deaths,and all that Angela hype you've been missing.Robert just gives off all that original sleepaway camp vibe,but there's many new editions.The music even has the same sleepaway camp sound.Some new talent added to the character line-up is Isaac Hayes as "The Chef",coincidence?Hahaha.Then we have Vincent Pastore as "Frank",the head of the camp.There is also a lot of fresh blood introduced,getting to be in "Return to sleepaway camp" as your very first movie would be quite an honor.Robert Hiltzik is such a classic and wonderful director.There was a couple death scenes that were quite original.The ending was immaculate,it seriously brought me to tears.Oh and a word of advice,watch until after the credits.They have a little surprise at the end for everyone.
There wasn't much i disliked about this movie.I thought the scene with Randy and Linda was dragged to long.I really didn't like the sleepaway camp theme song either,but the rest of the soundtrack was sleepaway camp-esqe.Besides that it's an awesome movie.I think it's one to add to the collection for all you horror fans out there.The story is a bit unbelievable though,not all of those kids would be that mean.Same with the camp counselors,they would be fired if they were that cruel to a boy.But it's the same non believable aspects that add that much more comedy and horror.Not to mention the tagline states,"kids can be so mean"!In my eyes this movie is already an instant classic!