Bianca Barnett Interview:
Status:Actress/Model
I'm also very pleased I was able to get an interview with the lovely Bianca Barnett. She is an awesome actress to look out for in the horror world. So check out her interview and bio below!
Bianca Barnett first slashed her way into the heart of horror with her fearless performance as the horribly mutated villainess, Pig Bitch, in 2009's "Albino Farm". Next, she portrayed Marlena, a drug-addled model who moonlighted as an organ thief in Ramzi Abed's mind-bending thriller, "In a Spiral State". Bianca made her film debut in Abed's "The Devil's Muse", playing dual roles as naïve Rose, who moved to Hollywood with hopes of stardom, and the mutilated corpse of the mysterious Black Dahlia.
Currently, Bianca has five projects she is working on in 2010, including a cameo in Michael Colburn's gruesome "The Toy Box"; a femme fatale in the neo noir "Kissing Jake"; and as the action heroine, Toy London, in "Vengeance Wears a Skirt". She continues to work hard as a model and actress while maintaining straight A's at the college she attends full-time. She strives to develop her craft by continuing to study theater and acting. She resides in a 1927 Tudor home in Los Angeles with her partner, movie maker Jason Barnett, and their two shih-tzu dogs.
1.) Let us start with the big question, what drew you to all things horror?
I grew up surrounded by sci-fi, aliens, and monsters. My dad founded Lunar Models, so I had the opportunity to go to conventions at a very young age. A childhood highlight was meeting Bob Burns and touring his "basement" museum where I saw ACTUAL movie props from The Time Machine, An American Werewolf in London, Alien, The Exorcist, The Munsters, and more. When we went back home, I had my step-granny sew a dress like Lily's for me to wear!
2.) When and why did you decide you wanted to become an actress/model?
I think I always knew I wanted to do something to entertain people. I was always in school plays, doing recitals, ballet, tap, choir, theater, blah, blah. After my parents divorced, I would spend weekends in the country at my dad's house. He had this amazing Victorian home, so I would write little movies and star in them with my sisters. I tried stop motion, makeup, and my own special effects. They were goofy, but when I think back, I realize that I was quite creative and truly had a love for the filmmaking process.
3.) Did you initially want to work in the horror genre, or did that come about later on?
Honestly, I just wanted a chance to act! However, I am a Goth girl at heart, so horror was always at the top for me. I think that I would like to transition into action films because it seems like a fun genre that is physically challenging. I don't watch any modern action movies, but I love exploitation action films from the 1970s.
4.) What would be your favorite movie that you've done so far and why?
I love working with my death partner, Jason Barnett, because he is a superbly talented filmmaker, editor, special effects artist, and he knows how to light and compose a shot beautifully. I trust working with him on anything because I know he has a real vision! We have done two short films- the award winning "Bunny Time Cupcakes" and a creepy short film called "Bulbs".
Albino Farm was my first real film, so that experience was really rewarding for me. The film was shot on location in Missouri, so spending time there was a great change of pace from being in Los Angeles. The people were all so sweet and helpful! I had the chance to do my own stunts, including a choreographed fight scene. I love doing new things and the idea of kicking ass in a movie is exciting, so I hope to do some action films in the near future!
Oh, and the Rocketz KILLING video turned out so beautifully, but I was sick with the flu the day of filming! Everyone was so kind to me, though, taking care of me and bringing me flu medicine.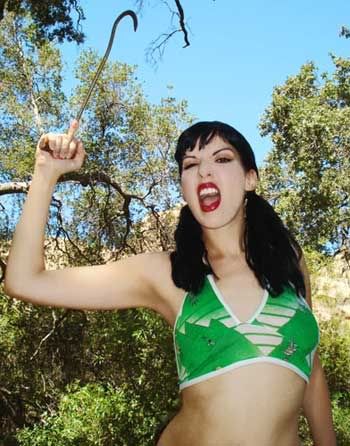 5.) Are there any actors/actresses that you've made it a goal to eventually get to work with?
Ooh, I haven't really thought of that! Honestly, I have to go through much more training before I can feel confident as an actor. I still do not feel that I am very good and I cringe when I watch myself on screen. I would kill (hee hee) to watch someone like Cate Blanchett or Meryl Streep prepare for and perform a scene. How amazing would that be? I would be studying every little gesture!
6.) What are the ups and downs of being a scream queen?
Well, honestly, I don't consider myself a scream queen because I feel that title is relegated to a very select few. (I am quite honored that some people consider me a scream queen, though!) Personally, I think more of myself as an actress who works in horror and independent film. That being said, the "ups" are getting paid work, especially when there is a great cast and crew, and meeting the fans. The "downs" are not having enough time to answer all the fan mail, and waiting for other jobs to come along. I also hate that great opportunities seem to come along all at once, so I can't choose to do everything! It seems like it is either feast or famine right now. Maybe that will change soon.
7.) If you weren't acting/modeling what do you think you'd be doing?
When I am not acting, I am taking as many science classes as possible in school! I am a full-time student and hoping to transfer to UCLA within a year or so to receive my baccalaureate of science.
8.) Do you have any words of encouragement or tips to aspiring scream queens out there?
Be true to yourself, do not EVER do anything you are not comfortable with, learn your craft, be professional, and show gratitude.
9.) Can you give us any inside information about any upcoming projects you have in the works?
There's an action film written by John D. Robinson called "Vengeance Wears a Skirt" that should be filming later this year. In May, I have a cameo in Michael Colburn's "The Toy Box" ,and in the summer, I am filming "Hellstorm" with Keith A. Smith. There might be other projects, too, but so far these are official.
10.) Who's your favorite woman(or women) in the horror world?
I love all of the elegant and sensual women of Hammer films. Barbara Steele is also a definite favorite.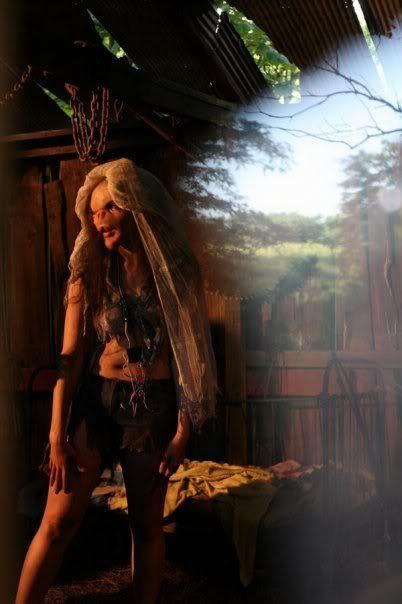 11.) Out of all the female villains/murderers/monsters,who's the scariest to you and why?
Linda Blair still scares me in The Exorcist! There's just something so scary about the idea of demon possession. I love it!
12.) And last but not least, what's your favorite horror movie of all time?
I can only pick one? Well, The Exorcist and The Shining are still very scary to me. I have trouble watching them if I am alone!
If you would like more information on Bianca and her upcoming projects please visit these websites:
You can find out more at http://www.biancabarnett.com , http://www.facebook.com/Bianca.A.Barnett http://www.myspace.com/bianca-barnett , http://www.twitter.com/biancabarnett