The Zombie Rabbit Award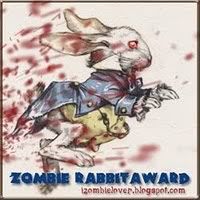 Hello, boils and ghouls Aleata here with some more awards to give out. Thanks to Joe from over at www.oductionproductions.blogspot.com. He runs a great movie blog so make sure you check it out! It says I need to hand this award out to 4 blogs, so here goes!
4.) 42nd Street Cinema: www.42ndstreetcinema.blogspot.com
I love James blog! He reviews tons of great movies from various awesome genre's including Cannibals, Crime, Naziplotation, Slasher, and much more.. He has a effervescent blog in my eyes and it's one of my favorites. Plus I just adore his main banner. What a collection of great flicks!
3.) Slash And Dine: http://www.brutalashell.com/category/slashanddine/
Shannon gives you gore mixed with lot's of crazy awesome food. Yeah, that doesn't sound appetizing the way I said it, but trust me on this! She takes the themes of great horror movies and makes a delicious recipe to go along with it. Her page has also become of my favorites as well.
2.) Miss LipsTattoo: www.lipstattoo.wordpress.com
Not only does this lady create some of the grooviest ghoulish jewelry I've ever seen, but she runs her own horror blog. Not only can you get movie reviews and interviews, but she posts step by step processes on how to make some of her fabulous jewelry. She has some of the coolest things that you would never ever think of.
1.) Patrick Stabbing Stabbing Stabbing: http://patrick.wonderal.com/blog/
Not only is Patrick an awesome dude, but he runs a totally sweet movie blog. So continue on to the link and get all you need to know about movies from Patrick's unique perspective.
Well that's all for now folks! Make sure to check out the links, and hopefully you enjoy them as much as I do!
Aleata