Gore Gore Gabbing:
Status: Movie News
Here is my little bits of movie information section. I've been hearing a lot of news about different projects and I want to just get them posted all at one time. So welcome to the world gore gore gabbing my friends! There are a few projects that I really would like share with everyone if you haven't heard of them, because I'm excited.
Director and amazing man, Joe Lynch
You all know about Joe Lynch's new Role play slaughter movie by the name of knights of badassdom because I never shut up about it, well we have some fresh news about it. They have announced some new cast members on the project. Steve Zahn(A perfect gewtaway, Joy Ride), Comedian Danny Pudi(community), Peter Dinklage(Death at a funeral,Elf), and Ryan Kwanten(True Blood,Dead Silence) are all signed on to get badass! For those of who don't remember what this movie is about, let's give you a quick synopsis. A group of kids are live action role players(you know dress up like medieval warriors and play fight battles for kingdoms and such) that end up casting a spell from a book he bought on ebay, which makes things a tad bit real as he releases evil monsters in the forest. Of course the insanity begins! To sum it up Joe refers to it as a "Heavy metal horror adventure".
And as a little bonus check out Joe on Body count recommending some great horror films for you to watch!
You can also catch my exclusive interview with Joe Lynch talking about it here:
http://aleataillusion.blogspot.com/2010/01/gore-gore-reporter-joe-lynch.html
Pornstar Belladonna
I thought this was some cool news because Michelle Sinclair(Belladonna) the porn star will be making her movie debut in the horror/thriller "Stripped". Even better she will be acting alongside Tiffany Shepis(one of my personal favorite scream queens). Written and directed by John Wildman the story revolves around two brothers and a friend that go out to celebrate one of the guys birthday, but all ends in a horrific bloodbath when they end up in a house filled to the brim with psychotic women. Definitely sounds quite appealing, and sexy! There's nothing I love more then cooky women who enjoy mindlessly butchering people.
Anyways you can find more information over at Bloody-disgusting where I first heard the news. Check out the link below:
http://www.bloody-disgusting.com/news/20501?utm_source=twitterfeed&utm_medium=twitter
Final Destination 5 gets a director, but why?
So they are releasing Final Destination 5 in 3-D, who would have figured? And it will be directed by Steven Quale(Second unit director for Avatar and Titanic). The movie will be released into theaters August 26th, 2011. Up until FD 3, I didn't have a problem with the movies, but the most recent one "The final destination" made me want to shove burning hot oiled fries into my eyeballs and wiggle them around a little. You can't even refer to that one as a "guilty pleasure" movie, because it was just so fucking bad. Anyways maybe they will surprisingly do something different with number 5, only time will tell. I'll let you know as the news comes.
And from Writer/Director Tim Sullivan comes 2001 Maniacs: Field of screams. The movie features amazing horror actors such a Bill Moseley, Lin Shaye, and Christa Campbell. This looks to be a grindhouse gorefest with gorgeous women and ridiculously awesome antics! I can tell you I'm extremely excited to see it! Check out the trailer below.
Oh and don't forget Piranha 3-D hits the screen August 27th, 2010. I've been very impatient! New international poster courtesy of www.shocktillyoudrop.com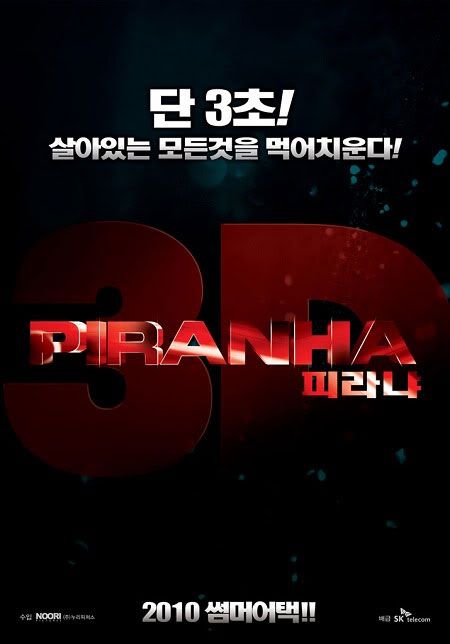 Well that's all for the gore gore gabbing section today. Hear any awesome movie news or want to promote your movie be sure to let me know, send me an e-mail at Ispeaktodestroyx@aol.com and for the Subject: Movie news.
Thanks!