Resident Evil Afterlife Updates!
Status: Movie News
I don't know about you, but I'm a fan of the Resident Evil movies, and I'm pretty stoked about Afterlife! I'm also a huge Milla Jovovich fan, that woman is amazing! Resident Evil Afterlife is going to be released in 3-D, they seem to be doing that a lot lately. I don't even enjoy 3-D that much, it hurts the eyes, and who would want to watch every freakin' movie in 3-D. It's probably some type of government brainwashing technique, haha. Okay let's get back on subject. Resident Evil afterlife focuses on Alice (Milla Jovovich) as she is one of the only survivors of the zombie apocalypse and trying to salvage and save the remaining humans, which are very little. There's new characters,more fights, more blood and gore, and it looks fucking immaculate! The movie is written and directed the by first resident evil's Paul W.S. Anderson. Also starring along side Milla are Ali Larter, Wentworth Miller, Sienna Guillory, and Shawn Roberts. The current release date we're looking at is Septemeber 10, 2010! I'll let you guys know if anything changes.
The new poster art is great! Check it out!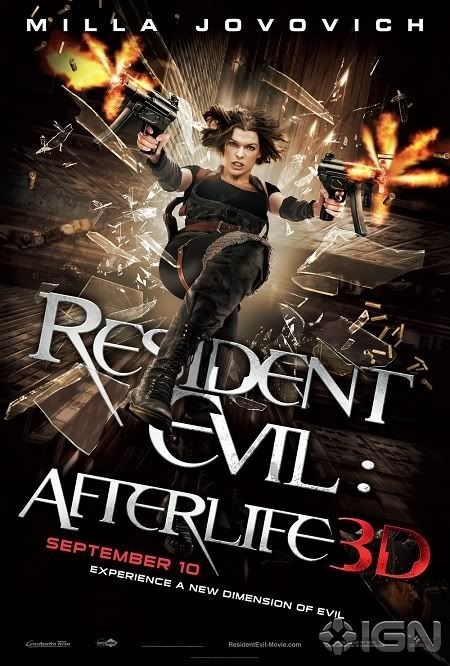 Check out the new Resident Evil Afterlife Trailer below:
Here's the original trailer as well, in case you haven't seen it yet:
And a Set visit to Afterlife:
So anyone else looking forward to it?